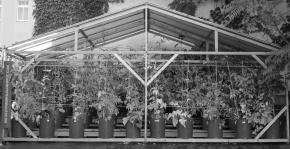 Uli Westphal - Transplantation

poster-uli-westphal-transplantation-web.pdf (2.7 Mb)

12 July - 31 August 2014
Opening: Saturday 12 July, 5-7 p.m. with tomato soup by Kromkommer
This summer German artist Uli Westphal will transform Stedelijk Museum Bureau Amsterdam into a greenhouse, where over sixty remarkable tomato varieties will be cultivated. The extraordinary collection of tomato plants traces the evolution of the tomato from a wild plant into an industrial product. It includes ancient, pre-Columbian precursors of modern tomatoes, traditional cultivars from all parts of the world, as well as game-changing industrial varieties, such as the first variety that was bred solely to withstand handling by a mechanical harvesting machine. Once the tomatoes have ripened, visitors can sample their unique flavors and textures, learn how to extract and save their seeds, and adopt individual plants. The project fits perfectly in the space of SMBA, with its transparent roof that sometimes causes greenhouse temperatures during the summer.
read more..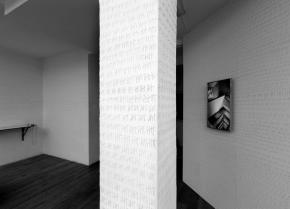 This is the Time. This is the Record of the Time

smba-newsletter-138.pdf (512 Kb)

13 September - 9 November 2014
Opening: Saturday 13 September, 5:00 - 7:30 p.m.
With: Kristina Benjocki, Sebastián Díaz Morales, Peter Fengler, Priscila Fernandes, Daniele Genadry, Walid Sadek, Rayyane Tabet, Esmé Valk, and Cynthia Zaven.
Stedelijk Museum Bureau Amsterdam presents This is the Time. This is the Record of the Time, a collaborative project with the American University of Beirut (AUB) Art Gallery, developed by curators Angela Harutyunyan and Nat Muller. The exhibition features newly commissioned works by nine artists based in Lebanon and the Netherlands. This is the Time. This is the Record of the Time is the second of four exhibitions in SMBA in the series of the Stedelijk Museum's Global Collaborations programme. The show will travel to AUB Art Gallery in March 2015.
read more..