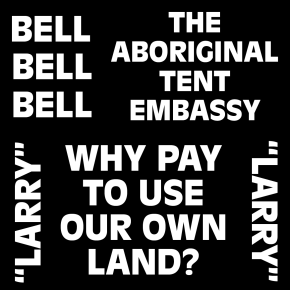 BELL invites

smba-newsletter-145.pdf (266 Kb)

30 January - 19 March 2016

Opening: Friday, January 29 at 5 p.m.
Jam: Saturday, March 19 at 7 p.m.
Guest curator: Vivian Ziherl
With: Richard Bell, Emory Douglas, Brian Elstak, Hosselaer (Farida Sedoc), Quinsy Gario, Ritzah Statia, 020 Crew
Co-curated with Aruna Vermeulen (HipHopHuis)
In partnership with the University of Colour
When invited by the Stedelijk Museum Bureau Amsterdam to undertake this exhibition Richard Bell—one of Australia's most renowned and challenging artists— responded by passing the invitation forward. The result is a show that features Bell's long-time collaborator Emory Douglas (former Minister of Culture of the Black Panther Party), as well a local team of artists brought forward by Aruna Vermeulen, director of the HipHopHuis, including painter Brian Elstak, designer Farida Sedoc (Hosselaer), and dancers Ritzah Statia and 020 Crew.
The exhibition at the SMBA will be a space of participation with collective painting of murals, discussion groups, dance interventions and DJ sessions at the opening and closing organised in collaboration with HipHopHuis. The project also takes place in partnership with the University of Colour, a student bloc dedicated to 'decolonising the University' that emerged from the major occupation of the University of Amsterdam Maagdenhuis in 2015.
Bell's art is preceded by his work within the Black Power and Aboriginal Rights movement over the 1970s and 1980s. As such his self-construction as an artist is part of a larger struggle towards cultural sovereignty. His canvasses, performances, videos and his public personae lunge at the boundaries of what it is possible to see, to think and to say. His work is dedicated to the production of the rebellious image—both in paint and in real time.
BELL invites is an exhibition and symposium that addresses itself to two of the most topical issues among museums and art institutions in Europe at the current time: 1) the place of performance in art institutions, and 2) the place of art institutions in the field of 'the global'.
Bell challenges which performance histories are received into art history, and whose performance is understood as 'performance'. To do this Bell opens with the proposition that The Aboriginal Tent Embassy—launched with an act of street theatre by activists in 1972—is in fact the greatest work of performance art within Australian history. Given the continuing significance and real presence of the Tent Embassy over 50 years later, Bell's argument is a compelling one.
From this particular history Bell branches out—proposing the social nature of the mural, the role of the black t-shirt in public provocation, as well as the self-imaging of black artists in television and video as overlooked performance traditions.
------------------------------------------------
Public Events
A symposium will be held on the 6th of February at the Stedelijk Museum auditorium featuring lectures, performances and dialogue on what the 'global museum' means to a city such as Amsterdam. More information and tickets: here
------------------------------------------------
SMBA Newsletter 145 will accompany the exhibition BELL invites, featuring an introduction by guest curator Vivian Ziherl and an essay by Dr. Gary Foley. Pick up a free copy of the bilingual newsletter (Dutch/English) at the exhibition or download the PDF from the SMBA website.
------------------------------------------------
Richard Bell (1953, Charleville, Queensland AUS) is an Australian artist and political activist. He is one of the founders of proppaNOW, a Brisbane-based Aboriginal art collective. Bell's artwork emerged into the spotlight when his painting Scientia E Metaphysica (Bell's Theorem) won the 2003 Telstra National Aboriginal & Torres Strait Islander Art Award with the claim "Aboriginal Art, It's a White Thing". Bell has exhibited widely throughout Australia and internationally, and has hosted the television series 'Colour Theory'.
Emory Douglas (1943, Grand Rapids, Michigan US) was the Revolutionary Artist and Minister of Culture for the Black Panther Party from early 1967 until its ending in 1982. Emory's artwork and design formed a powerful signature for social justice during the era. Emory's revolutionary art continues to support the struggle against social injustice transcending boarders.
Brian Elstak (1980, Zaandam NL) is an artist and art director with roots in the hip hop, theatre and art scene. He illustrates, paints and connects with storytellers on a daily basis. Brian is also part of the creative collective LFMC and has a weekly radio show amongst other creative ventures. He lives and works in Zaanstad.
Quinsy Gario (1984, Cur/SXM/NL) is an award winning performance poet and artist. His most well known work 'Zwarte Piet Is Racisme' critiqued the general knowledge about and the institutional support for the racist Dutch figure of Black Pete. Quinsy's latest focus is on state protection of the marginalized and political resistance as performance art. Currently he is enrolled in the Master Artistic Research at the Royal Academy of Art The Hague.
Imara Limon (1988, Leiden NL) is studio and production manager for Frontier Imaginaries founded by Vivian Ziherl. Imara is an Amsterdam-based researcher of the colonial museum and its afterlives. She is the former chief editor of Simulacrum and she was part of the New World Summit team, founded by artist Jonas Staal.
Farida Sedoc is an artist and founder of HOSSELAER, a textile studio in Amsterdam inspired by streetculture where identity is a recurring theme in her work. She makes colorful, graphic, narrative prints combined with classic applications used on tshirts, sweaters and textiles. With the aim to achieve artistic and commercial collaborations with kindred spirits.
University of Colour (UoC) is a student bloc dedicated to 'decolonising the University' that emerged from the major occupation of the University of Amsterdam Maagdenhuis in 2015. The UoC collective aspires to create a more balanced university at both curricular and demographic level that includes non-Eurocentric perspectives and ideas.
Aruna Vermeulen is co-founder and director of the HipHopHuis in Rotterdam. HipHopHuis is a centre to experience and develop hip-hop culture. Activities at HipHopHuis are organised grassroots, and the centre attracts beginners as well as professionals.
Vivian Ziherl (1982, Brisbane, AUS) is a critic and curator living and working in Amsterdam (NL). In 2015 Vivian established the multi-platform project Frontier Imaginaries, through the IMA Curatorial Fellowship. Ziherl has curated projects with the Stedelijk Museum Amsterdam, the Witte de With Centre for Contemporary Art Rotterdam, and OCAT Shenzhen.
020 Crew is a collective of bboys/Hiphop dancers and creatives from Amsterdam city. 020 Crew is a platform founded to unite bboys and bgirls from Amsterdam, under the motto of 'United we stand divided we fall.' With 020 crew we represent the Amsterdam Break community nationally and internationally. 020 crew provides dance & music entertainment on various levels. Battles, theater, live shows, events and workshops are our main activities.
------------------------------------------------
BELL invites is generously supported by the Australia Council for the Arts and the AFK (Amsterdams Fonds voor de Kunst). Special thanks to Milani Gallery, Brisbane.