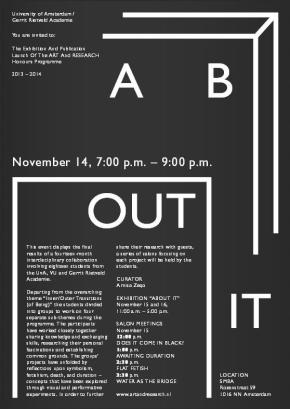 About it

about-it-invitation.pdf (20 Kb)

14 November - 16 November 2014
Opening and book launch: Friday, 14 November 7:00 - 9:00 p.m.
Participants: Anastasija Pandilovska, Annemiek Geel, Baha Görkem Yalim, Bastien Gachet, Brenda Guesnet, Céline Hürzeler, Chi Nguyen, Deborah Schrijvers, Florian Jomain, Freja Kirchheiner, Giulia Crispiani, Kristian Mølberg Meyer, Laura Dima, Lenneke Vos, Maïa Wolf, Rosanne van der Voet, Sofia Dupon, Tiemen Wind.
Curator: Arnisa Zeqo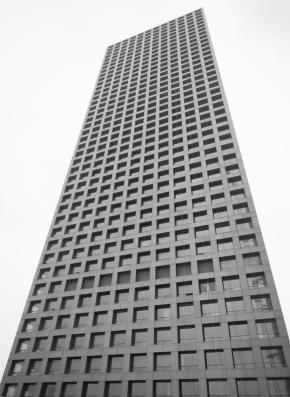 Zachary Formwalt - Three Exchanges

smba-newsletter-139.pdf (500 Kb)

27 November 2014 - 25 January 2015
Opening: Thursday 27 November, 5:00 p.m. - 7:30 p.m.
Stedelijk Museum Bureau Amsterdam presents the solo exhibition Zachary Formwalt –Three Exchanges. In three recent video installations, Zachary Formwalt focuses on the architecture of the new OMA-designed Shenzhen Stock Exchange, and the Amsterdam stock and commodities exchange designed at the end of the nineteenth century by the socialist architect, H.P. Berlage. The three installations dig into a fundamental issue surrounding financial trade: whereas financial transactions seem to dictate our economy and thus their effects can be felt everywhere, the activity of trading itself has become increasingly remote, unavailable for any kind of actual human encounter. The architecture of the stock exchanges serves as a starting point to a profound investigation into the limitations of photography to represent capital and into the interrelationships between financial capitalism and image making.
Zachary Formwalt –Three Exchanges in SMBA is the third exhibition in the series of the Stedelijk Museum's Global Collaborations programme. The exhibition will travel to the Museum of Contemporary Art in Belgrade in January 2015.
read more..