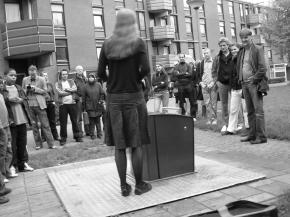 BijlmAIR - Jetske de Boer
At the end of October it was the turn of Jetske de Boer. During her four months she subjected the Bijlmer to an investigation, in order to answer to the question, 'Does Amsterdam Southeast have the potential to transform itself into a self-regulating zone without district government, and if so, how can this be accomplished?'
To this end, De Boer researched playgrounds, rubbish collection sites and locations where young people hang out, among other places. The most promising method for the development of a self-regulating zone appears to be the recycling of the surplus energy that seems to be freed up at such spots. They appear to be visited primarily by diverse people who have energy to burn. De Boer noticed this energy going to waste, and conceived the idea of capturing it, letting it circulate and employing it to regulate social processes by means of an 'automatic feedback system'.
In her investigation in the Bijlmer Jetske de Boer (b. 1976), who studied at the art academy in Groningen and the Piet Zwart Institute in Rotterdam, among other places, displays a penchant for the situationist dérive, for generally unnoticed, unloved places in the city. She finds working with the neighbourhoods and what is going on there to be interesting, but like the situationists she does little with the people themselves. De Boer explains, 'At first I wanted to do that. But when you see what is already being done for the residents, there is already a whole lot: a dance club here, an association there, a neighbourhood centre here, an youth club there. I thought, no, I'll approach this as an artist. What good can I do them that way?'
Her ideas regarding an 'administration-free zone' are an idiosyncratic answer to that question. The project took the concrete form of a Powerpoint presentation by De Boer in the residence atelier in the Millingenhof, and several guided tours around the Ganzenhoef metro station.