Publications
Space for Books, Newsletters, Reviews
In this section you can find three different kind of publications. At Space for Books you can find several publications, which are all realized in collaboration with SMBA. In this feature you can read more about the different publications and it is also possible to order the books.
Next to the launching of books and other publications, SMBA precedes with a newsletter before every new exhibition. The Newsletters contain information considering new exhibitions, openings, lectures and other events organised by SMBA. To be able to read the newsletter, you can choose this option or subscribe to our free newsletter through E-mail Newsletter
By choosing the option Reviews you can find various reports, commentary and accounts from many kinds of magazines, newspapers and journals on the events that took place at SMBA.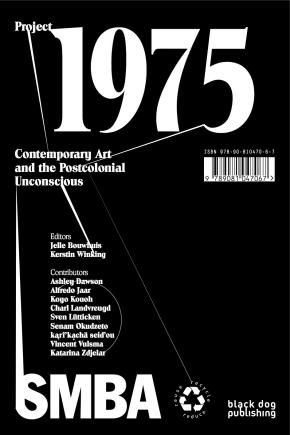 PROJECT 1975 Contemporary Art and the Postcolonial Unconscious
Out now!
Get your copy at:
* SMBA bookstore
* Stedelijk Museum Amsterdam bookstore
* black dog publishing
Project 1975 started as a two-year program of Stedelijk Museum Bureau Amsterdam. The project was set on exploring the relationship between contemporary art and postcoloniality, which gains more and more relevance to artists and thinkers in a context of a globalizing art world. It addressed key questions such as: How do artists today view the historic or contemporary acts of colonial powers? Do colonial mindsets persist ?in art and its institutions? What can replace the tacitly embraced multicultural normalization of the 1990s? These questions elicited versatile artistic and critical responses, many of which are presented and discussed in freshly released volume Project 1975 - Contemporary Art and the Postcolonial Unconscious.
read more..