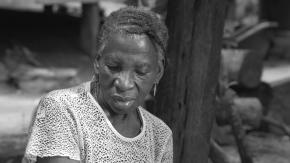 Play SMBA 5: Cracking the Frame Presents
Film & Talk: Artist presentations and talks with Lonnie van Brummelen & Siebren de Haan, in conversation with Helen Westerik as part of Cracking the Frame Presents
Date: Friday, 6 May, 4:00 - 5:15 p.m.
Language: English
Entrance: Free
"Yu fufuu mi koni tyai gwe" (you come to steal my knowledge) is a Surinamese saying referring to knowledge transfer. In company of other CTFP guests, artists Lonnie van Brummelen and Siebren de Haan will speak about this as part of their current research in the tropical forest in Eastern Surinam, screening Maripa Fatu - a study in preparation of their next feature film.
Maripa Fatu shows entrancing scenes in the tropical swamp forest where the village elder instructs the young apprentices from her community how to produce oil from the seeds of the Maximiliani Maripa palm. The oil, containing acids that protect against microscopic fungus and bacteria, was once used for cooking and for skin and hair treatment. Nowadays, cheap baking oil and mass-produced beauty products caused the ancestral production of the multipurpose Maripa oil to fall into disuse. We observe in meditative rhythm how the laborious process of hammering, drying, crushing, pounding, and cooking is alternated by waiting, and the preparation of Podosiri, a dark purple juice, from the berries of the Açaí palm tree.
Dutch artists and filmmakers Lonnie van Brummelen and Siebren de Haan live and work in Amsterdam and Paramaribo. Working together since 2002, they produce film installations, sculpture and collages that explore cultural and geopolitical landscapes, involving extensive fieldwork and long-term collaborations. Next to their current research project and the production of a new feature film in Suriname, Lonnie van Brummelen is engaged as a PhD candidate at the University of Amsterdam and HKU with the research 'Drifting Studio Practice – return of the making in the thinking'. Their work has been presented at venues as Yerba Buena Center for the Arts in San Francisco, Palais de Tokyo in Paris, De Appel and SMBA in Amsterdam, and the Shanghai and Guangju Biennials. More info: http://www.vanbrummelendehaan.nl/
The last feature film of Lonnie van Brummelen and Siebren de Haan, Episode Of The Sea (2014) is playing in Rialto cinema 8 May / 18.30.
---------------
Cracking The Frame is a monthly program of art documentaries and films made by artists, hosted at Rialto and arthouses in The Hague, Haarlem, Alkmaar, Hilversum, Arnhem and Breda. In celebration of its five-year anniversary Cracking the Frame organizes an extended program called Cracking the Frame Presents at various locations in Amsterdam, including Rialto, Stedelijk Museum Bureau Amsterdam, LIMA, W139, Butcher's Tears, PuntWG, M4gastatelier, Tetterode, LAB111.
The extended program is a pilot for a new interdisciplinary platform for international productions that highlight and investigate the shifting domains of documentary film and visual arts. Cracking the Frame Presents aims to introduce documentary films dedicated to artists from a range of disciplines and films made by artists to a wider audience. The platform also aims to stimulate the collaboration and exchange of content between cultural institutions in Amsterdam.
Cracking the Frame Presents is initiated by Christian Pazzaglia and developed in collaboration with Heidi Vogels, and formally represented by Stichting GRAS.
Christian Pazzaglia (1974) - Artistic director
Christian Pazzaglia is a film professional based in Amsterdam. Since 2006 he works as film programmer and as curator of special audiovisual events for festivals, film houses and cultural institutions throughout the Netherlands and internationally. His programs and experience covers a wide spectrum of subjects, contexts and audiences. Next to his practice as film programmer Christian currently works as producer on two feature length documentaries in The Netherlands and Australia and is writing a script for a feature film that will be directed by Japanese director Daisuke Miyazaki. More info: www.christianpazzaglia.wordpress.com
Heidi Vogels (1978) - Art director
Heidi Vogels is an Amsterdam based artist, working in research based projects seeking to define our outlook on our day-to-day reality and surroundings. Initially working in the media of photography and text, over the last years she got involved into the practice of filmmaking and is currently working in the last phase of completing a feature documentary, a visual essay about the disappearing gardens in the medina of Fez, Morocco. Next to her art and film practice, she is involved in several collaborative projects with curators, researchers and artists, and works since many years as consultant and coordinator for TransArtists|DutchCulture. More info: http://www.heidivogels.nl/ and http://gardensoffez.com/.
Helen Westerik is a film historian and writer. She co-wrote a book with Louise Fresco on the meaning of food in films (Verraad, Verleiding en Verzoening) and is currently working on book on the politican avant-garde in film. She also works for the Script Academy and gives lectures on film and film history.
---------------
More about Cracking the Frame Presents, news, venues and schedules: Here
Image: Maripa Fatu, Lonnie van Brummelen and Siebren de Haan