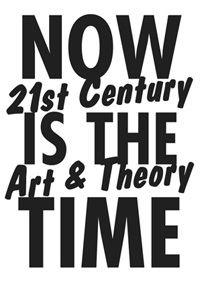 Now is the Time: Art & Theory in the 21st Century
Lecture Series Fall/Winter 08/09
Location: Oude Lutherse Kerk, Auditorium of the University of Amsterdam (Spui), Amsterdam

Starts at: 8.00 p.m.
This coming season the Stedelijk Museum Amsterdam, the University of Amsterdam, artist initiative W139, Stedelijk Museum Bureau Amsterdam and art magazine Metropolis M present a new series of lectures entitled 'Now is the Time: Art & Theory in the 21st Century'. Across seven evenings national and international art historians, curators and critics will reflect on urgent social and art specific topics such as 9/11, Globalisation, Romanticism, New Canon, Media, Belief and Design.
The attack on the World Trade Center spelled closure for the 20th Century. There was no going back; the world had been catapulted into a new millennium. But what developments have taken place in the visual arts since this violent start? And how has art theory interpreted and contextualised these developments?

The programme of Now is the Time consists of a series of lectures and debates dedicated to urgent themes that together describe the total scope and complexity of the arena in which the arts of the new millennium are situated. Renowned speakers such as W.J.T. Mitchell, Boris Groys, Terry Eagleton, Kaja Silverman, Julian Stallabrass, Hou Hanru, Ruth Noack and Rick Poynor, will consider topical questions such as the impact of 9/11, the role of advancing globalisation on the art world and the polarizing effect of religion. These themes, defined by social and political developments, are juxtaposed with art related subjects like the search for a new canon, the return of Romanticism, the ideals of design and the status of the artwork in the post-medium condition.
For the full programme, more information on the topics and speakers and to make reservations, please visit the website: www.nowisthetime.nl
PROGRAMME
MEDIA: Friday 3 October 2008

With Kaja Silverman (VS) and Laura U. Marks (CAN)

9/11: Tuesday 28 October 2008

With W.J.T. Mitchell (VS) and Sean Snyder (VS/DU)

GLOBALISATION: Tuesday 11 November 2008

With Julian Stallabrass (GB) en Hou Hanru (China/F/VS)

DESIGN: Thursday 27 November 2008

With Rick Poynor (GB) and Camiel van Winkel (NL)

NEW CANON: Thursday 11 December 2008

With Robert Nelson (VS) and Ruth Noack (A)

BELIEF: Thursday 15 January 2009

With Terry Eagleton (GB/Irl) and Boris Groys (DU)

ROMANTICISM: Thursday 29 January 2009

With Jos de Mul (NL) and Jörg Heiser (DU)
All evenings will be concluded with a moderated debate between the speakers and the audience
Now is the Time takes place in the Auditorium of the University of Amsterdam (Oude Lutherse Kerk, Spui).

The entrance fee is € 7,50 per evening, a passe-partout for the complete series is € 40. There is also a medium passe-partout available for € 25 which gives entrance to four lectures of your choice.

Special rates apply to students, UvA alumni and Friends of the Stedelijk Museum.
For reservations please go to: www.nowisthetime.nl Tickets and passe-partouts can also be purchased at W139 en SMBA.
All Now is the Time lectures are in English.
Now is the Time: Art & Theory in the 21st Century is compiled by:

Jelle Bouwhuis (SMBA)

Ingrid Commandeur & Domeniek Ruyters (METROPOLIS M)

Gijs Frieling (W139)

Margriet Schavemaker (UvA)

Christel Vesters (art critic/curator)