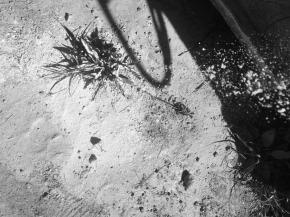 Play SMBA 1
Kyriaki Costa - Diaspora | I Must Have Swallowed The Dust
7 - 17 April 2016
Guest Curator: Iris Pissaride
Thursday 7 April, starts 7pm

This Thursday SMBA organises a discussion on the war in Syria, migration, borders, and border-crossing with invited-speakers: Dr. Thomas Jeffrey Miley (Lecturer of Political Sociology, University of Cambridge), and Dr. Dimitris Dalakoglou (Professor of Social Anthropology, VU University Amsterdam). This event also marks the opening of the exhibition 'Kyriaki Costa - Diaspora | I Must Have Swallowed The Dust', with drinks until 9pm.
In September 2015, a dust-wave from Syria covered Cyprus in a dust-cloud. As the island of Cyprus was filled with dust, Syria was being emptied of human life. If dust is made up of organic substances, how much of this dust was made up of human matter?
Costa's work is made of the dust itself, collected during the period of the dust-cloud. Insodoing, by manually handling and re-shaping it, the artist creates artefacts made of "othered" contexts. Primarily containing mosaic forms in the shapes of places now lost or destroyed - which the artist located through satellite maps - the installation as a whole alludes to a heterotopia. It contains locations that are constantly "othered" in the current political language in and of the West, and poses a critique towards current practices of "othering". Instead of being descriptive about the locale that she deals with, Costa lets the space itself reveal what it affords through its mere materiality.
"I must have swallowed the dust" - the artist states, triggering a set of questions: How can we remain unaffected by the dust? How can we keep sweeping it from our yards as if we'll then go "back to normal"? Why do we only awake from our self induced hibernation when destruction is presented as being closer? Why do we remain deaf to sounds of certain explosions? Why do we swallow and accept the imperialism of "western superiority" that fuels up destruction? Who gains from our fixation with borders and our perceptions of outsiders and "others"? In Costa's work the place which is also "the dust", "the physical matter", "the human substance" itself is something that now intimately and physically reaches us - bringing into question the always contested "us" within the visions and divisions of discourse.
------------------------------------------------
Kyriaki Costa was born in Nicosia, Cyprus. Her recent work deals with social and natural phenomena which she enigmatically transforms and places in indoor spaces. By musealising the natural world her work constantly blurs the boundaries of nature and culture allowing the audience to see them as part of a continuum. Costa deals with topographies, histories, and place-making, by using art as an anthropological practice and as a set of interventions on the social. ?he corpus of her work as a whole is thematically influenced by history, sociology and the politics of identity and space. She is also an activist in Cyprus focusing on environmental issues as well as matters of public spaces and the commons.
Iris Pissaride was born in Kaimakli, Cyprus in 1990. She is a sociologist and a musician. She holds a BA in Politics Psychology Sociology, and an MPhil in Sociology from the University of Cambridge. Her sociological work revolves around matters of identity and space and it is focused on liminal spaces, identity constructs, postcolonialism and critical theory. She is interested in the interpolations of sociology with art, as well as practicing public and visual sociology through new curatorial practices. As a musician she holds a BA in Music and she regularly performs by playing the santouri as a member of ZRI (a classical-gypsy quintet), and at productions of Shakespeare's Globe Theatre in London.
Dimitris Dalakoglou is a Professor, holding the Chair in Social Anthropology at Vrije University Amsterdam. He is also affiliated with the Sussex Centre for Global Political Economy. He works on mobility, cross-border and urban infrastructures in the Balkans and Greece and he was one of the first anthropologists to approach the Greek crisis ethnographically. In 2012 he was awarded an ESRC-Future Research Leaders grant for the project 'The City at a time of Crisis' (crisis-scape.net), he co-created a map of racist attacks in Athens, and he has been conducting research on migration and the borders of Greece since 2004. His most recent book is 'The Road' (Manchester University Press, 2016).
Dr. Thomas Jeffrey Miley is lecturer of Political Sociology in the Department of Sociology at the University of Cambridge. He received his B.A. from U.C.L.A. (1995) and his PhD from Yale University (2004). He was a Garcia-Pelayo Research Fellow at the Centre for Political and Constitutional Studies in Madrid (2007-2009). His research interests include comparative nationalisms, the politics of migration, religion and politics, and democratic theory.