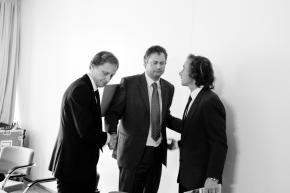 Nicoline van Harskamp - Any other Business
12 February - 1 April 2012

smba-newsletter-126.pdf (461 Kb)

Opening: Saturday 11 Feb, 5 – 7 p.m
- Prolonged until the 1st of April -
'Any other Business' by Nicoline van Harskamp started off as a scripted conference. The public had an ambiguous role in this. Were they going to take part in this performance, or not? The whole event was recorded as a video installation, and is now to be seen for the first time in The Netherlands at Stedelijk Museum Bureau Amsterdam.
The title Any other Business refers to a point at the end of the agenda at many meetings and conferences: matters that have not yet been dealt with but require brief consideration. It comes at the tail end of the meeting, when everyone has lost concentration. Van Harskamp concentrates precisely on the apparent trivialities in situations such as these. She sought her sources in existing lectures, speeches and discussions from the recent past, using them as her point of departure for the conference. The less pretty aspects of impassioned arguments subtly but unmistakeably take over at moments like these.
Van Harskamp mercilessly exposes the contradictions between various ideological positions and the attitudes through which these views are literally voiced, by flesh and blood individuals who just can't seem to let go of their egos and idiosyncrasies. The resounding keynote address by a popular politician who comes across as authentic, proves to be an agglomeration of sentiment and clichés collected from the farewell speeches of presidents. A statement about the potential of communism for philosophy today trips itself up hopelessly through the endless tongue-in-cheek jokes by the speaker, whose character appears to be based on Slavoj Zizek. A postcolonial theoretician who fervently takes up the cudgel for the position of students in relation to their teachers approaches her own audience arrogantly and as unruly pupils, who aren't even able to pose questions. A round table discussion as part of a 'Day of the dialogue' exposes the unavoidable language and power games among the participants, and ends up in a dog fight.
The Any other Business conference was comprised of one full day with ten different meeting sessions, in which a total of 35 actors were involved. For the video installation these sessions have ultimately been reduced to nine short films varying in length from 10 to 40 minutes. In the exhibition in SMBA they are in part projected simultaneously.
Nicoline van Harskamp's work invariably lays a finger on the sore spot of the failures of language in the political sphere. For instance, her three-part To Live Outside the Law You Must Be Honest (2007) she showed how residents of the 'free state' of Christiania in Copenhagen contradict each other about (for instance) the question of leadership. As she does so, she engagingly makes it clear that a society can in fact get along very well without leaders, but can't do that without an a level of integrity that it is unlikely to ever realize. The New Latin (2010) is a demonstration of how the international art world picks up its self-created variants of English, and with them demands a sort of freedom that in a certain sense undermines the universal claims of language, and therefore also of art. These are elements of Van Harskamp's oeuvre that take shape in intensified, and often humorous ways in the kaleidoscopic Any other Business.

Nicoline van Harskamp
(Hazerswoude, 1975) studied at the Royal Academy for the Visual Arts in The Hague (1994-1997) and Chelsea College of Art and Design in London (1997-1998). In 2007/2008 she was an artist in residence at the Rijksakademie van Beeldende Kunsten in Amsterdam. In 2009 she won the first prize in the Prix de Rome. Her film work and
performance
s have been seen at the Van Abbemuseum, Eindhoven ('Be[com]ing Dutch', 2008), the 4th Bucharest Biennale (2010), Stedelijk Museum Amsterdam ('Monu
mental
isme', 2010) and Performa 11, New York (2011), among other venues. Last year her travelling work-in-progress 'Yours in Solidarity' began a tour at D+T Project in Brussels. Presently the work is to be seen at the Frankfurter Kunstverein and at MUAC in Mexico City.
See also www.vanharskamp.net
Any other Business was produced for the 'My Name is Spinoza' event in 2009, and was at that time made possible in part by SKOR Foundation for Art in Public Space), the Mondriaan Fund, the Amsterdam Fund for Art and Regardz Meeting Centers.
The exhibition will be accompanied by the SMBA Newsletter nr. 126, with an introduction to Van Harskamp's work by the artist Bart Groenendaal. In addition, this Newsletter contains the complete programme booklet for Any other Business.
[Photograph by Willem Sluyterman van Loo]