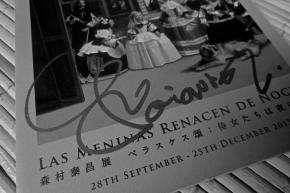 Made in Commons
Irwan Ahmett & Tita Salina, Maja Bekan, Zhana Ivanova, Jatiwangi Art Factory, Maryanto, Papermoon Puppet Theater, Read-in (Hyunju Chung, Annette Krauss, Serena Lee, Laura Pardo), Dusan Rodic, Vincent Vulsma, Wok the Rock
30 November 2013 - 26 January 2014
Opening: Friday, 29 November 5 - 8 p.m. On Saturday 30 November extended opening hours, from 11 a.m. - 8 p.m., because of Amsterdam Art Weekend
Made in Commons is a collaborative project of KUNCI Cultural Studies Center in Yogyakarta, Indonesia, and Stedelijk Museum Amsterdam. Ten artists and artist groups based in the Netherlands and Indonesia take part in this multimedia exhibition. Made in Commons is the first of four presentations at Stedelijk Museum Bureau Amsterdam (SMBA) in partnership with art institutions from non-Western countries. The series is part of the three-year Global Collaborations program of the Stedelijk Museum.
Made in Commons takes as its inspiration the notion of "commons" and its relation to contemporary art. In recent decades, contemporary art practice has reacted to the new wave of privatization and ownership. In response to economic decline, many of today's artists are motivated by the concept of commons to identify relevance for the arts beyond market value.
"The central concept of commons draws together desires for shared access and distribution of resources as an alternative to the mainstream market paradigm. Engagement with these desires and their side effects is a shared characteristic of the works presented in the framework of Made in Commons," said KUNCI's director Ferdiansyah Thajib and project curator Kerstin Winking in a joint statement about the exhibition.
None of the works claims direct engagement with commons discourse per se, but all of them address issues that are central to it: collaboration, the sharing of resources, labor, ownership, authorship, (artistic) control, open participation, knowledge-sharing, power hierarchies, and decentralization.
The works exhibited in Made in Commons are united in their drive to encourage participation and, in some cases, are literally a call to action. For example, in advance of the exhibition, Wok the Rock distributed 100 certificates that made their bearers co-authors of his work. The certificates will be displayed at SMBA and returned to their owners afterward. Collaboration is scrutinized from a critical perspective in Vincent Vulsma's installation, which shows how the universal human need for sleep is linked to the division of labor between different businesses in the Netherlands and Indonesia.
Combining a broad range of works, Made in Commons sheds light on art as a collaborative or shared practice. At the same time, it makes clear that collaboration is a complex endeavor, especially when geographically dispersed people - who are connected through an eventful history - are involved.
---------------------------------------------
The exhibition at SMBA is accompanied by a publication that expands on the project's artistic departure points. Indonesian anthropologist Nuraini Juliastuti contributes an essay examining how the concept of commons plays a vital role in Indonesian art practice. The regular SMBA newsletter will not be published.
---------------------------------------------
Made in Commons continues in Yogyakarta in mid-2014, with a program of exhibitions, performances, lectures, and other events.
---------------------------------------------
Global Collaborations is a three-year project that aims to generate an informed and well-balanced overview of developments in contemporary art from a global perspective. It is based on collaborative partnerships with experimental and multifaceted art institutions throughout the world and encompasses exhibitions, publications, events, and an online platform. The program takes place at the Stedelijk Museum and at Stedelijk Museum Bureau Amsterdam (SMBA), the project space of the Stedelijk. Global Collaborations continues until the end of 2015 and was initiated by Jelle Bouwhuis, head of SMBA, and project curator Kerstin Winking.
[Image: Wok the Rock, Biography of Authenticity, The Artist Signature, 2013]
Global Collaborations/ Made in Commons is generously supported by principal benefactors Stichting Ammodo and the Mondriaan Fund and additional support from The Amsterdam Fund for the Arts, Prins Bernhard Cultuurfonds Noord-Holland, Prins Claus Fund and Arts Collaboratory.