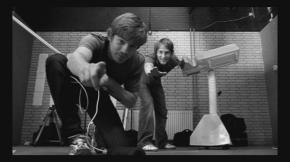 Screens on 11: Joris Lindhout
High & Low
7 September 2006
High & Low will be premièred on Thursday 7th September around 10pm and is then on show every evening for the rest of the month. It will be followed by a work of Pantelis Makkas in October.
The Postivism Foundation commissions the artists from the Stedelijk Museum Bureau Amsterdam (amongst others) to make work especially for the panorama video screens of Club_restaurant_11 on the Oosterdokskade. As a result of this a flash animation by Rafaël Roozendaal (muchbetterthanthis.com) was on view in May. Joris Lindhout has been invited for September. He is an artist who principally works with film. Lindhout and his friend Haydar Çakal have envisioned a filmatic story suitable for the ambiance of 11. High & Low became a mixture between Fellini's 8 1/2 and The Truman Show: the work is about making a film especially for Club_11 with, in the starring role, a soap director who cannot come up with anything and is therefore beset by his producer. The film crew come up with the brainwave of letting the public of 11 play the starring role.
Lindhout and Çakal move the space of 11 into the work by making use of visual tricks like actors who walk across from one screen to an opposite one and 'cameramen' who wildly gesticulate to the public. The entirety has a slapstick-like character and is full of film cliché's: it is a nimble way of facing the party-going crowd of 11 and also, by absence of sound, to make the story as clear as possible.
Lindhout (1981) studied Art & Media Technology and recently graduated cum laude in his Master of Fine Art degree at the Utrecht Graduate School of Visual Art and Design. Haydar Çakal is a film maker.