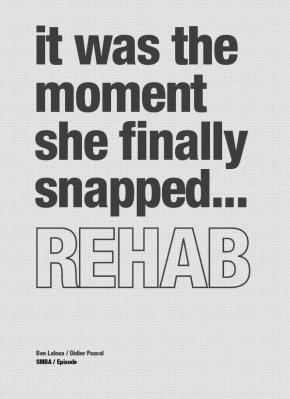 REHAB
Ben Laloua / Didier Pascal's project consists of an outdoor poster campaign in Amsterdam, a number of soft-media and wallpaintings in the exhibition space of Stedelijk Museum Bureau Amsterdam and the publication REHAB. In the publication the drawings by Ben Laloua / Didier Pascal and the design by Mevis and Van Deursen reduce the rehab entanglements around Britney Spears, Paris Hilton and Pete Doherty to their narrative essence. Old images of Britney, Paris and Pete from various magazines return there in comic-strip form, making it clear how thoroughly their mediatised lives run according to time-honoured patterns: they are almost the lives of saints, as might be found in a 15th century block book, but dressed in the iconography of the paparazzi.
Title: Ben Laloua / Didier Pascal. Concept and Drawings

Contributions: Stine Jensen, Jelle Bouwhuis

Language: English / Dutch.

Cover: 75 p. / bound /

soft cover / 24 x 33 cm / colourillustrations /

Price: 30,- ? /

ISBN: 9789059730700

Published: episode publishers, Rotterdam

Year: 2007