BijlmAIR : Maria Guggenbichler, SISTER FROM ANOTHER MISTER

program-9-12-april.pdf (162 Kb)


program-13-april.pdf (154 Kb)


program-16-17-19-april.pdf (138 Kb)


program-21-april.pdf (135 Kb)


program-23-24-april.pdf (134 Kb)


program-25-26-27-april.pdf (152 Kb)

1 April – 30 April 2013
BijlmAIR studio/apartment, Florijn 42
SISTER FROM ANOTHER MISTER is an events and research program, set up by the current BijlmAIR resident, the artist Maria Guggenbichler. SISTER is taking place during the whole month of April 2013 in and around the BijlmAIR premises in Florin 42, Amsterdam De Bijlmer.
read more..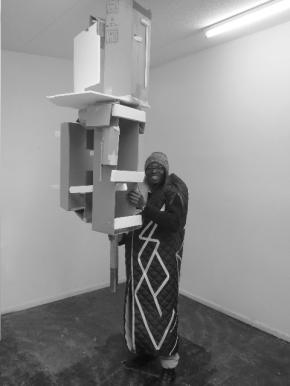 Jérôme Chazeix resident at BijlmAIR
Jérôme Chazeix (France / Germany, 1976) is the first resident of the BijlmAIR program in 2013. His research focuses on elements of parallel worlds such as alchemy and esotericism and results, through the use of versatile media including sculpture, fashion and techno music, in the achievement of an encyclopedic gesamtkunstwerk.
read more..

Call for BijlmAIR 2013
15 August - 30 September 2012
BijlmAIR is the Artist-in-Residence Programme of Centrum Beeldende Kunst Zuidoost (CBK Zuidoost – center of visual arts), Stedelijk Museum Bureau Amsterdam (SMBA) and Stichting FLAT (FLAT foundation).

For 2013 BijlmAIR invites artists and other cultural producers to live and work temporarily in Amsterdam Southeast . This period can be used for project research or for realisation of a project or work of art, following a relevant proposal made by the applicant. The selection committee of the participating organisations decides which proposals will be chosen.

The residency needs to relate to the transnational and intercultural society of Amsterdam Southeast. This can be done on all kinds of levels – urban, sociological, economical, historical, etc. The programme is primarily meant for young artists from the Netherlands and abroad, who finished their art education recently and are almost ready to enter the circuit of the larger art institutions.

BijlmAIR aims to present the different residencies in 2013 at the end of the year.
read more..