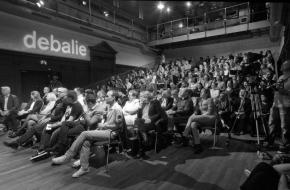 The World inside the Art World
Thursday, 27 November 2014
Time: 3.30 p.m. - 5.00 p.m.
Location: De Balie
Admission fee: see website De Balie
Although everyone is talking about globalization, the consequences of this debate – at least in The Netherlands – are practically invisible in the collections and exhibitions of Dutch art institutions. Western European art and North American art are represented, but contemporary art from even the BRIC countries is hard to find in our museums. This is remarkable, especially if we consider their impressive local art histories. To inform ourselves on these subjects, we still have to visit ethnological museums.
For online screening of the debate click here
Aren't we curious enough? Are we just waiting for the market to change? Or do we consider 'modern art' to be a Western thing? But then again, we should also be asking the question of to what extent the existing institutional context is actually suitable for the varieties of aesthetic practices that we find all over the globe. 'Modern art' implies universality, a claim that has – with some changes – been adapted by more recent debates on 'global art'. And yet most of the world is excluded from the discussion.

As a result there is a lack of knowledge of contemporary art in a global context. In this debate we will investigate the reasons underlying this apparent unawareness or disinterest, and discuss possible institutional frameworks for the inclusion of non-Western aesthetic practices.
This topic will be subject of a series of presentations, followed by a discussion. The panel includes Jelle Bouwhuis, Godfried Donkor, Chang Tsong-Zung and Maria Varnava. The discussion will be chaired by Johan Hartle, assistant professor at the department of philosophy at the University of Amsterdam.
--------------------------------------------------
Chang Tsong-Zung (Johnson Chang) is a curator, the Director of Hanart TZ Gallery, guest professor at China Art Academy, and board director of Asia Art Archive. Chang has been active in curating Chinese exhibitions since the 1980s: major exhibitions include 'China's New Art Post-1989' (international tour 1993–98), Special Exhibitions for the Sao Paulo International Biennial (1994 and 1996), Hong Kong official participations at Sao Paulo Biennial (1996) and Venice Biennial (2001), 'Power of the Word' (Taiwan and US tour 1999–2002), the 'Yellow Box' series of research projects about contemporary art practice and Chinese aesthetic spaces (since 2004). Recent curatorial work includes: co-curator of 'Guangzhou Triennial 2008: Farewell to Post-Colonialism', 'Spiritual Space: A Dimension in Lacquer' (Hubei Museum of Art 2009) and the 'West Heavens' series of Indian-Chinese art and intellectual exchanges (presented at the Shanghai Biennale 2010, Guangzhou Triennial 2011 and Shanghai Biennale 2012). Chang was also co-curator of the 2012 Shanghai Biennale.
Maria Varnava is the owner and Director of Tiwani Contemporary. Established in 2011, Tiwani Contemporary exhibits and represents international emerging and established artists, focussing on Africa and its diaspora. The gallery presents work through its exhibition programme and participation in art fairs. Tiwani Contemporary represents Virginia Chihota, Andrew Esiebo, Theo Eshetu, Mary Evans, Simone Leigh and Abraham Oghobase. Associate artists are ruby onyinyechi amanze and Shoshanna Weinberger. In addition to its commercial activities, Tiwani Contemporary runs a public programme, Art Connect, supported by the A.G. Leventis Foundation. This provides a platform for discussing contemporary artistic practice through publications, talks and projects, both within the gallery and in association with other organisations.
Godfried Donkor (1964, Kumasi, Ghana) studied Fine Art at Saint Martins College of Art and Design in London, African Art History at the School of Oriental and African Studies, and Painting at Escolla Massana in Barcelona. His work has been exhibited in solo exhibitions at Dak'Art 2000 in Dakar, Senegal (2000), and at the National Museum in Ghana (2006). He participated in several group exhibitions including 'Rethinking Nordic Colonialism' at NIFCA in Torshavn, Faroe Islands (2006), 'Around the World in 80 days' at ICA in London (2006), 'Hollandaise' in SMBA Amsterdam (2012) and RAW Material Company, Dakar (2013). His work is currently on show in the exhibition 'How Far How Near' at the Stedelijk Museum, which recently acquired work of Donkor. Donkor lives and works alternately in Kumasi, London, and Johannesburg.
Jelle Bouwhuis (1965, the Netherlands) is curator at the Stedelijk Museum Amsterdam and head of its project space, Stedelijk Museum Bureau Amsterdam. He has curated over 30 exhibitions at SMBA, as well as group exhibitions such as the large-scaled 'Monumentalism. History and National Identity in Contemporary Art' at the Stedelijk Museum (2010), with catalogue, and 'Spaces of Exception', in ArtPlay, Moscow as a special project of the Moscow Biennial 2013. He was also co-editor of Now is the Time. Art and theory in the 21st Century, (NAi Publishers, 2009) and Project 1975 – Contemporary art and the Postcolonial Unconscious (Blackdog Publishers, 2014). He is currently head curator of the long-term project Global Collaborations at the Stedelijk Museum and compiled the current exhibition 'How Far How Near. The World at the Stedelijk'. See http://global.stedelijk.nl
Johan Frederik Hartle (1976, Germany) is Assistant professor for Philosophy of Art and Culture at the department of Philosophy, University of Amsterdam (UvA). He got his PhD degree from the University of Münster in 2005 (with a dissertation on the impacts of the spatial turn in cultural theory on political aesthetics). Thereafter he pursued postdoctoral studies at several international universities (such as the Hebrew University, Jerusalem, and the Università Roma Tre, Rome). His general field of research is the connection between aesthetics and politics in Marxist and post-Marxist debates and in the tradition of institutional theories of art. Recent publications include Beate Geissler/Oliver Sann/Johan Frederik Hartle: Personal Kill, Nürnberg: Verlag für Moderne Kunst 2010, Rainer Ganahl/Johan Frederik Hartle: DADALENIN, Zürich/Stuttgart: Edition Taube 2013.