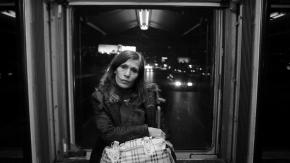 Sculpting in Time: Present Conditional
Thursday, 30 October & Friday, 31 October 2014
Location: Stedelijk Museum
Time: 1:30 - 5:15 p.m.
Sculpting in Time: Present Conditional is a programme of auteur film from Lebanon guest curated and introduced by curator and writer Rasha Salti. It is part of the public programme of the exhibition This is the Time. This is the Record of the Time, the second exhibition of the Stedelijk Museum's Global Collaborations project.
Thursday, 30 October 2014

1:30-3:00: (Posthumous) and 1958 by Ghassan Salhab

3:00-3:30 break

3:30-5:15: Birds of September by Sarah Francis

All films with introductions by Rasha Salti.
Friday, 31 October 2014

1:30-3:00: My Heart Beats Only for Her by Mohamed Soueid

3:00-3:30 break

3:30-5:15: A World Not Ours by Mahdi Fleifel

All films with introductions by Rasha Salti. The screening A World Not Ours is followed by a Q&A with filmmaker Mahdi Fleifel
Andreï Tarkovsky's book of collected texts on cinema, titled Sculpting in Time, has become so seminal, that the very notion of 'sculpting in time' has itself become a foundational concept for cinematic practice. While it refers chiefly to the practitioners' craftsmanship in unravelling time within a film's poetic, emotional and dramaturgical universe, it is borrowed in this short program of documentary and essay films in reference to how the films embody and convey, masterfully, the specific lived experience of being and time. Time in the aftermath of a devastating war in Ghassan Salhab's short essay film (Posthumous); time in the writing of the self in a young modern country without a consensus on an official historical narrative in Salhab's singular autobiography, 1958; time forged in the contrast of two political imaginaries, and the temporalities of two generations, as in Mohamad Soueid's My Heart Beats Only for Her, with a father, a revolutionary from the 1960s and 1970s, and his son looking to make his fortune in the unbridled hyper neo-capitalism of Dubai; time and denizenship as experienced by the third generation of Palestinian refugees in Lebanon, in Mahdi Fleifel's first-person documentary A Word not Ours set in the Ain el-Helweh camp; and lastly, time and being in the fractured urban space of Beirut, in Sarah Francis's Birds of September, where everyday people share aspirations, desires and wounds as they drive through the city in a glass capsule.
--------------------------------------------------
30 October 2014

> PROGRAM 1: 1:30-3:00

(Posthumous) by Ghassan Salhab. Lebanon, 2007, 28min. Color, DigiBeta, Arabic, English, French, with subtitles in English.

A subdued lamentation, composed of travelling shots gliding down Beirut thorough fares during and in the aftermath of the Israeli war in 2006. Clouds of media, noise and martial worship, an arrow-shaped tear in salmon velour and the steady scrape of the bulldozer claw, a fragile yet lapidary marker on the road to the Lebanese interior.
1958 by Ghassan Salhab. Lebanon, 2009, 66 min. Color and B&W, DigiBeta, Arabic, English, French, with subtitles in English.

1958 marks two events: firstly the birth of the filmmaker in Senegal; secondly the beginning in Lebanon, his parents' native country, of a serious internal conflict that will result in a long series of civil wars. An intertwining then of a private history with national histories that mix themes covering exile, colonisation, Lebanese politics as much as linguistic diversity. Yet a figure gradually begins to stand out at the centre of this maelstrom: the mother of Ghassan Salhab. It is around her, her face, and her evocations that the images of the events of that time in Lebanon and in Africa take shape. It is she who allows each piece of information to be handed over incarnate, perceptible, charged with an unusual and heady physical presence. (Jean-Pierre Rehm, FIDMarseille 2009)
Credits:
Screenwriter: Ghassan Salhab
Cinematographer: Sarmad Louis
Editor: Simon El Habre
Music: Vasks, Wodden Shjips, Scelsi, Asmahan
Cast: Zahia Salhab, Aouni Kawas
> PROGRAM 2: 3:30-5:15

Birds of September (Tuyur Ayloul) directed by Sarah Francis. Lebanon/Qatar, 2013, 99 minutes. Color, HD, in Arabic with subtitles in English.

Characters parade in a glass-framed box driving across the streets of Beirut, from dawn to dusk, disclosing to the director their aspirations, dreams, desires, the pains of everyday survival, frustrations and wounds. As the chorus of stories draws a bluntly expressionist portrayal of the city, the uninterrupted travels across its streets makes for the most unlikely road-movie, cadenced with sequences in a voice-over that intimates the director's own reflections of living in this city yet unsettled in post-war resolution.
Credits:
Written, Directed and Produced: by Sarah Francis
Cinematography: Nadim Saouma
Editor: Zeina Aboul Hosn and Sarah Francis
Sound: Stéphane Rives, Sarah Francis
Music: Stéphane Rives, Jawad Nawfal, Faddit Tabbal and Paed Conca
31 October 2014

> PROGRAM 3: 1:30-3:00

My Heart Beats Only for Her (Ma Hataftu li Ghayriha) by Mohamed Soueid. Lebanon, 2008, 87 minutes. Color, DigiBETA, Arabic-English-Vietnamese with subtitles in English and Arabic.

The Palestine Liberation Movement (most widely known by its Arab acronym, Fat'h) had a remarkable faction known as the Student Brigade - to which Soueid was affiliated in the 1970s. It was disbanded after the PLO's withdrawal from Lebanon in 1982. Soueid has filmed its surviving members, meditating on the return to civilian life after the dust of battle has settled and dreams folded after the revolution has lapsed. The film's title is borrowed from one of Fat'h's anthems, My Heart Beats Only for Her. The film casts a son who retraces his father's journeying among the ranks of revolutionary fighters in Lebanon of the 1970s, guided by a notebook and sketchy autobiographical notes. The film's structure is marked with a back and fro, off-setting essentially a reflection on two generations, a father who dreamed of revolution and fame, Vietnam and Hollywood, and his son, a filmmaker, lost between the superlative mythology of Dubai, and Beirut, the once "Arab Hanoi".
Credits:
Camera & Editing: Pamela Ghanimeh
Sound & Original Music: Nadim Mishlawi
Sound Designer: Rana Eid (db Studios).
Post Production: the postoffice
Executive Producer: Mohamed Soueid
Assistant Producer (Hanoi, Vietnam): Le Minh Tuan
Produced by: O3 Productions
> PROGRAM 4: 3:30-5:15

A World Not Ours ('Alam Layssa Lana) directed by Mahdi Fleifel. Palestine/Denmark, 2012, 93 minutes. Color, HD, Arabic and English with subtitles in English.

Blending his family portrait with the chronicles of return, Fleifel's first feature records the daily survival of three generations of Palestinian refugees living in the Ain el-Helweh camp, just south of Sidon, Lebanon's second largest city. Drawing on family archives (photos and videos), as well as historical footage, the film is a reflection on belonging, friendship and family. It is not only the story of a family, but an attempt to record what is fleeting, on the brink of falling into forgetting because of collective indifference to the despair of refugees. Fleifel, who had the privilege of leaving the bleak living conditions in the camp, returns to find his friends, with whom he still shares a passion for soccer and Palestinian politics. In the unmediated, yet tender foray into the universe of the camp, A World Not Ours intimates to the viewer the poignant lived experience of being deprived of the most basic of civic rights, over the span of generations.
Credits:
Written, filmed and directed by: Mahdi Fleifel
Producers: Mahdi Fleifel, Patrick Campbell (Nakba Filmworks)
Editor: Michael Aaglund
Music: Jon Opstad
Sound: Zhe Wu