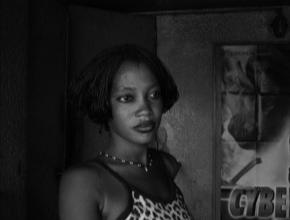 Bart Groenendaal Screening & Quinsy Gario Presentation
Sunday, 3 June 2012

Starts at 7.30pm

Free entrance, reservations through: mail@smba.nl

Presentations in Dutch
On the last day of their exhibition Bart Groenendaal and Quinsy Gario will give a presentation of their work at the Stedelijk Museum Bureau Amsterdam. Groenendaal will show his film Albino and discuss it and other works. Subsequently Quincy Gario will elaborate on his views regarding the classic 1971 Dutch film Blue Movie.
His first filmproject Albino (2001), was the outcome of Groenendaal's attempt to integrate into the city of Abidjan in Ivory Coast, while a civil war was emerging that would last for six years. While life in the district of Treichville was hardening by the discussion about national identity, the artist captured his impressions of the people around him, the street life, and responses to the presence of his camera. With the use of homemade radio reports and staged scenes, a layered narrative evolves in which the political account is blended with the personal story.
Quincy Gario will give a presentation about the notorious film from the 1970s, Blue Movie, by the Dutch directors Wim Verstappen and Pim de la Parra. According to Gario the film is a time capsule of the period in which it was made, so that it can be used to analyze this era. He will show how Blue Movie poses questions about modernist city planning in the Bijlmer district, and investigates the message for the nouveau riche of this film.
Quinsy Gario b. 1984, Dutch Antilles) is a theatre, film and television scholar, performance poet, a member of Simia Literario, and editor of LOVER and Andy's Art & Culture Market. He won the Dutch New Theatermakers Prize 2011. He is also the initiator of the art project 'Zwarte Piet is Racism'. He has published two poetry collections, and is currently living in the Heesterveld, in Amsterdam Southeast.
Bart Groenendaal (b. 1975, Amsterdam) is an artist. In his films and videos his anthropological background and interests come to the fore. He studied at the Audio Visual department at Gerrit Rietveld Academy in Amsterdam, and completed a residency at the Rijksakademie van Beeldende Kunsten in Amsterdam in 2008. He lives and works in Paris.