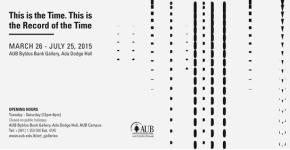 Exhibition 'This is the Time' opens in Beirut
Exhibition: 26 March - 25 July 2015
Opening: Thursday 26 March 6:00 – 9:00 pm
Location: AUB Byblos Bank Art Gallery, Ada Dodge Hall
As part of the Global Collaborations, AUB Art Galleries in Beirut will present the exhibition This is the Time. This is the Record of Time. This show was previously to be seen at Stedelijk Museum Bureau Amsterdam. At the occasion of the opening on Thursday 26 March several performances take place. This is followed by the symposium 'Thinking about Time' that is organized by the American University of Beirut. Later in the year AUB Press will publish an extensive catalogue of the project that was initiated under the flag of the Stedelijk's long-term project Global Collaborations.
This is the Time. This is the Record of the Time takes its cue from Laurie Anderson's ominous 1982 song 'From the Air' where she describes the duration between becoming conscious that the plane will crash and its actual impact. This is the Time. This is the Record of the Time activates different temporalities and calls on us to pause and reflect, even if only for a moment. The artists investigate to what extent the recording mechanisms and material recordings of our lived times shape our notions of temporality – both world historical and those of the art world.

The exhibition comprises work by Kristina Benjocki, Diana Hakobyan, Sebastián Díaz Morales, Peter Fengler, Daniele Genadry, Walid Sadek, Rayyane Tabet, Esmé Valk, and Cynthia Zaven. The show has been curated by Angela Harutyunyan and Nat Muller.

The symposium 'Thinking About Time' takes place on 27 and 28 March. Speakers are: Vardan Azatyan, Bassam El-Baroni, Jelle Bouwhuis, Nadia Bou Ali, Ray Brassier, Fares Chalabi, Clare Davis, Rico Franses, Ursula Frohne, Muhannad Hariri, John H. Hartle, Sami Khatib, Eric Kluitenberg, Aras Ozgun, Kirsten Scheid, Brian William Rogers.
This is the Time. This is the Record of the Time is part of the Stedelijk Museum's Global Collaborations program in partnership with AUB Art Galleries. The exhibition and its newly commissioned works premiered at Stedelijk Museum Bureau Amsterdam in September 2014.
More information about the exhibition can be found on the website of AUB Art Galleries