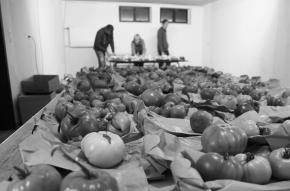 Guided tour and tomato seeds extraction workshop with Uli Westphal
Sunday, 31 August 2014, 2:00 p.m.
Cost: Voluntary donation (suggestion: € 5.00) RSVP: mail@smba.nl
The exhibition 'Uli Westphal - Transplantation' in Stedelijk Museum Bureau Amsterdam concludes with a guided tour and seed extraction workshop. During the workshop artist Uli Westphal will demonstrate how to extract seeds from tomatoes. In addition, Westphal will tell the stories behind the many tomato varieties that matured during the summer in the exhibition. Westphal will also elaborate on his long research on crop diversity, for which he collected many obscure fruit and vegetable samples and collaborated with farmers, gene banks and non-profit organizations. Of course, participants can also taste the unique flavors and textures, and learn how to extract seeds from the tomatoes and keep them. It is also possible to adopt an extraordinary tomato variety to grow in future seasons in and around Amsterdam. Support biodiversity and join us!
The workshop is kindly supported by the Goethe Institut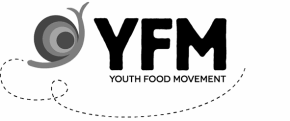 Will our Food crop up in the Future?
Date: Wednesday, 20 August
Time: 8 p.m.
Location: SMBA, Rozenstraat 59, Amsterdam
Language: English
Admission: free
Reservations through: mail@smba.nl
With: Joris Lohman (YFM), Luc Groot (Agriterra), Annechien Meier, Bert Visser (CGN), Uli Westphal and moderator Janno Lanjouw (FFF)
Stedelijk Museum Bureau Amsterdam organizes, in cooperation with Youth Food Movement, a debate addressing the topic of crop and food security. Crop diversity is one of the most important and most undervalued public goods in the world. The greater the diversity of crops and of the varieties contained within them, the greater the guarantee that our agriculture can endure any disaster, from drought to diseases. The opposite is also true. A decrease in diversity increases the likelihood that the biological basis of our food disappears. Will our food crop up in the future? will bring together artists, scientists and thinkers to discuss on the state of the worlds crop diversity and on ways to preserve and promote it.
read more..