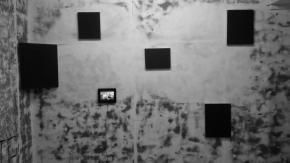 Kamarado in Mumbai and New Delhi
22 January – 1 February 2016
As the final chapter of the series of exhibitions of Global Collaborations, 'Kamarado' has landed in India. In Mumbai a substantial part of it is to be seen at Clark House Initiative where it forms part of the larger framework of ephemeral and unexpected situations and micro-events, 'Liberty Taken by Surprise'.
The artists of the original 'Kamarado' involved are Sosa Joseph, Adrian Melis, Judy Blum Reddy, Mieke Van de Voort, Jeronimo Voss and Sawangwongse Yawnghwe. To these have been added Yogesh Barve, Nicoline van Harskamp, Poonam Jain, Naresh Kumar, Saviya Lopes and Diego Tonus. The exhibition consists of different events, readings and screenings and runs until February 1. It is accompanied by a short introduction by co-curator Zasha Colah.
read more..


BELL invites: global performance
A forum on the SMBA exhibition BELL invites, in collaboration with HipHopHuis and the University of Colour.
Date: Saturday, February 6, 2016
Time: 12.30 - 5.30 pm
Location: Teijin Auditorium, Stedelijk
Museum Amsterdam
Language: Dutch / English
Admission: Entrance Fee for the Stedelijk Museum + €2,50
Reservations: here
On the occasion of the exhibition BELL Invites (Jan. 29 – Mar. 19, 2016) at the Stedelijk Museum Bureau Amsterdam and the Stedelijk Museum, together with guest curator Vivian Ziherl and co-curator Aruna Vermeulen (HipHopHuis) organizes the one-day symposium Global Performance. The program will feature lectures, performance and debate held as a Socratic dialogue within a specially designed forum architecture by Julie Peeters.
read more..

Stedelijk Museum is planning to reposition Stedelijk Museum Bureau Amsterdam
The Stedelijk Museum is working on plans to reposition the Stedelijk Museum Bureau Amsterdam (SMBA), the museum's project space in the heart of the city.
"In view of the changes that have swept the art world in recent years, the time has come to reconsider the position of SMBA. Digital developments, globalization and the participation of makers and visitors are now a vital part of the art world. Boundaries are being redrawn, and we're eager to embrace and respond to those developments," says Stedelijk director Beatrix Ruf. "To enhance the contemporary art world, in which independent presentation institutes are facing challenges, we aim to provide an answer to what is currently lacking, and needed, in the city."
read more..