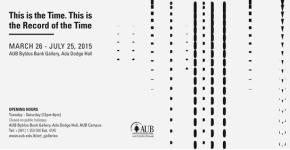 Exhibition 'This is the Time' opens in Beirut
Exhibition: 26 March - 25 July 2015
Opening: Thursday 26 March 6:00 – 9:00 pm
Location: AUB Byblos Bank Art Gallery, Ada Dodge Hall
As part of the Global Collaborations, AUB Art Galleries in Beirut will present the exhibition This is the Time. This is the Record of Time. This show was previously to be seen at Stedelijk Museum Bureau Amsterdam. At the occasion of the opening on Thursday 26 March several performances take place. This is followed by the symposium 'Thinking about Time' that is organized by the American University of Beirut. Later in the year AUB Press will publish an extensive catalogue of the project that was initiated under the flag of the Stedelijk's long-term project Global Collaborations.
read more..

Art in a 'Global' Context – Interview with Zoran Eric
On February 6, the third exhibition in the Global Positions series opened at the Museum of Contemporary Art (MoCAB) in Belgrade, Serbia. This time, the exhibition is a solo presentation by Amsterdam-based artist Zachary Formwalt, entitled Three Exchanges, which consists of three interrelated video works exploring the often-invisible impact of global capitalism. The Global Positions exhibitions are developed from collaborations between the SMBA and like-minded art institutions around the world. The first in the series, Made in Commons, resulted from an exchange with the KUNCI cultural centre in Yogyakarta, Indonesia, and the second established a relationship between the art scenes in Beirut and Amsterdam.
Art historian Steyn Bergs interviews the MoCAB's chief curator Zoran Eric about the meaning of Formwalt's installation in a former communist country, Serbia's 'in-between' position in terms of the postcolonial discourse and the value of institutional collaborations.
To read the interview click here