Art, Capital & Avant-Garde
Saturday, 29 November 2014
Location: De Balie, Amsterdam
Time: 10:30 a.m.
Admission fee: website De Balie
Recently the international auctions have broken all records on the works they sell. Over 20 million euros were spent on paintings of living artists like Gerhard Richter. Should he be thankful for that? What is the critical value of a painting that has become a fetish, a toy to play with for speculants and a symbol of the unjust ditribution of wealth in our world?
During this gathering we will discuss the financial worth vs. the social worth of art. The monetary value of artworks forms a proof for the vitality of the financial capital – despite the financial crisis that led to major cutbacks in the art world. The most important question is: what is the real worth of art nowadays?
Big words like 'the experiment', 'young talent' and 'critical art' sound empty when all that really matters is the financial value. Are there any strategies we can think of that can help us transform these facts into a different set of values? Can artistst, collectors, buyers and sellers change the market from within?
The panelists of this discussion are Beatrix Ruf (Director Stedelijk Museum Amsterdam), Olav Velthuis (Associate Professor at the Department of Sociology and Anthropology of the University of Amsterdam), Matthew Slotover (Co-founder Frieze) and artist Zachary Formwalt. Defne Ayas (director Witte de With Center for Contemporary Art, Rotterdam) will moderate this programme.
For online screening of the debate click here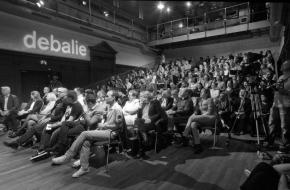 The World inside the Art World
Thursday, 27 November 2014
Time: 3.30 p.m. - 5.00 p.m.
Location: De Balie
Admission fee: see website De Balie
Although everyone is talking about globalization, the consequences of this debate – at least in The Netherlands – are practically invisible in the collections and exhibitions of Dutch art institutions. Western European art and North American art are represented, but contemporary art from even the BRIC countries is hard to find in our museums. This is remarkable, especially if we consider their impressive local art histories. To inform ourselves on these subjects, we still have to visit ethnological museums.
For online screening of the debate click here
read more..