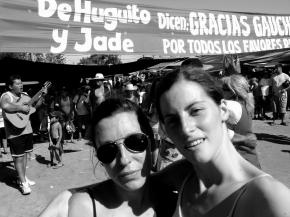 Screens on 11: La Promesa
Magnus Monfeldt
June 6 - June 28
In his video installation La Promesa (2008), to be seen on the six large screens of Club 11, Magnus Monfeldt visualises the festive celebration of the myth surrounding the Argentine folk hero Antonio Gil, popularly called El Gauchito. There are a number of versions of his story. Monfeldt follows the one in which Gil, hung from a tree by his feet, begs to be given a proper burial, and just before having his throat cut charges his executioner to pray for him. If he does not do that, Gil predicts, then his son will die. It is January 8, 1878; Gil is killed.
When the policeman responsible arrives home later he finds his son deathly ill. The official sees to Gil's burial and sinks down beside his grave, hands folded ? after which his son is healed.

Since then Gauchito Gil has been revered as an unofficial saint by a large part of Argentina's Catholic population. January 8 has been proclaimed a national holiday, and the place where Gil was killed has become a pilgrimage site. Moreover, shrines devoted to Gil are to be found alongside roads in South America. Monfeldt became fascinated with the peculiar aesthetic of these popular memorials. Accompanied by an Argentine photographer and her friend, he journeyed as a true pilgrim to Gil's shrine in Mercedes, Corrientes Province. La Promesa is a record of that journey.
Three large screens hang on each side of the auditorium. They show the conversation between Monfeldt's companions as they get all dressed up for a party. On one side the dialogue is flanked by serene images of rich Buenos Aires: modern skyscrapers reflect the light of the rising sun, sprinklers water the fresh, green lawns. On the other side are contrasting images of the impoverished countryside. Ramshackle houses without windows stand alongside parched fields where nothing grows. Monfeldt's shots are long, the editing of the images is rough. Together they form a road movie that is characterised by its forceful narrative.
According to tradition, when a wish is fulfilled, the believer thanks Gil with a gift. La Promesa ends with the offering of a mother who gives a braid of hair from her son, who has survived after being born prematurely. The story is moving, the way the woman tells it all the more so. According to Monfeldt, whether the legend of Gil serves a personal or a larger purpose, the myth is potentially everyone's story. It is essential to keep it alive, for spiritual or for financial reasons.

Monfeldt's own personal search is also imperceptibly interwoven with this particular myth. In an interview the Swedish artist admitted that as a child, 'somewhat naively, perhaps', he believed in Argentina, even wanted to be Argentinian. As in his previous films like We Have To Talk About It (2002) and The Perpetual Summer (2002), in La Promesa Monfeldt investigates the traces of faith in the past, in memory, or that almost lifelike dream.

Magnus Monfeldt will be returning to Argentina in the future.
Magnus Monfeldt (b. Avesta, 1973) studied at the Gerrit Rietveld Academy and the Sandburg Institute, Amsterdam. He made La Promesa as a commission from SMBA, as part of the 'Screens on 11' programme. The film can be seen every evening from June 6 through 28 between 9:00 and 10:00 p.m. in the Post-CS Building on the panoramic video screens of Club 11.
Ilse van Rijn