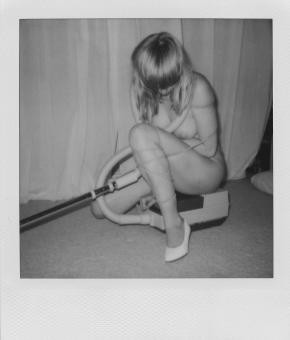 Capricious
Young Photographers
21 January - 4 March 2007

smba-newsletter-96.pdf (2.22 Mb)

The title of the exhibition 'Capricious' in Stedelijk Museum Bureau Amsterdam is derived from the Amsterdam/New-York periodical of the same name which functions as an open podium for up-and-coming photographers who work autonomously. As a counterpart, SMBA presents six young photographers, some of whom have also previously shown work in the periodical: Katja Mater, Marianne Vierø, Melanie Bonajo, Paulien Oltheten, Linda-Maria Birbeck and Sema Bekirovic.
Opening 20 January, 5 - 7 p.m.
The magazine Capricious gives photographers six to twelve pages to show one photo on each page. Each mat-finished page is detachable. This arrangement makes it clear that Capricious is not so much a magazine but a periodically appearing collection of autonomous works from which everyone may assemble an exhibition at home, to their own taste.
In fact, in this manner the magazine rather simply does what museums often do in the form of elaborate exhibitions, in which the autonomy of the work shown is generally underscored by the format and the amount of white space around them. But why do what a magazine can also do? Would it not be better to experiment in an exhibition with photography, a flexible medium par-excellence, and try to open up the great potential of its presentation possibilities?
For its group exhibition 'Capricious' the SMBA has chosen work by six photographers who are searching for an alternative way to handle the medium – a way that is not only expressed in their choice of subjects, but especially in the manner in which they present their photography. Content and presentation cannot be seen as separate from one another.
Katja Mater (b. 1979) works the most directly with the medium-specific qualities and limits of photography. In her recent work one element that is almost exclusively restricted to photography is central: flash lighting. The flash can both literally illuminate things, but can also hide and deconstruct them. Mater elaborates on flash light in her photo and video work.
Marianne Vierø (b. 1979) is still best characterised as a still-life photographer, for whom the physical still-life is sometimes just as important as the photograph of it. The photographed object can have the character of a sculpture or installation, as we encounter them in a museum, or, much more often, as reproductions in art books. Vierø shows installation and documentation as one inseparable entity.
Melanie Bonajo (b. 1978) was for some time the co-editor of Capricious. Her photographs often arise from prompted, staged situations. A series of Polaroid bondage photos was created with a wink at the kinky erotic genre. For 'Action Heroes' Bonajo also got family, friends and acquaintances to shamelessly assume the craziest poses. That Bonajo's absurdism goes hand in hand with great intimacy will become clear from her presentation in SMBA.
The contribution of Paulien Oltheten (b. 1982) to this exhibition consists of a one-time lecture with slides. This lecture is based on the photographic and video records she made during trips to, for instance, China. She adds captions and figments of the imagination to these images, that in their turn become part of the work itself.
For Linda-Maria Birbeck (b. 1974) text is also an important component in her documentary photo work. She seeks characteristics in specific communities that we are inclined to regard as proof of their low culture or low life. But rather than exaggerating these elements, with great empathy she brings them to the surface and transforms them into ambiguous, aesthetic jewels.
In the exhibition Sema Bekirovic (b. 1977) is presenting her photo essay Koet, which is appearing in printed form from Veenman Publishers. In her photos Bekirovic concentrates on visualising the confrontation between nature and culture, which often manifests itself most strongly precisely in urban areas. For Koet she spent several months following a pair of coots as they built and maintained their nest in Amsterdam.
First, the exhibition 'Capricious' offers a spatial experience, within which enclosed spaces are personalised with the presentations of the separate participants. In this way the exhibition is a spatial counterpart of the aestheticised two-dimensionality of the periodical Capricious. The magazine also has its place, namely in the new reading room in the entrance hall of Stedelijk Museum Bureau Amsterdam: Space To Keep Books or STKB (and magazines), designed by the artist Joris Brouwers.
The work by Oltheten and Bekirovic will be presented in the exhibition space on the Wednesday evenings 7 and 21 February, together with lectures by specialists on photographic history and theory. The exhibition runs through March 4.
See the
newsletter
for more information about the exhibition
Click here for more information about the magazine Capricious