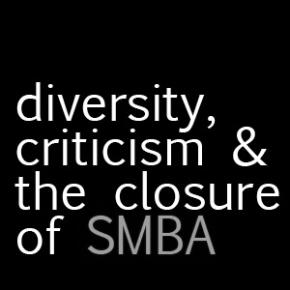 Public Debate: Diversity, criticism, and the closure of SMBA
Organized by Herbert Ploegman & Kunstlicht: Journal for Visual Art, Visual Culture, and Architecture
Date: June 14, 7.30 p.m.
Location: SMBA
Language: English
Entrance: admission is free, but registration is required. Register via info@tijdschriftkunstlicht.nl, subject: SMBA.
Panelists: Prof. Dimitris Dalakoglou (?chair of Social Anthropology, Vrije Universiteit, Amsterdam); Irene Fortuyn (visual artist, researcher, lecturer); Patricia Kaersenhout (visual artist, cultural activist, lecturer); Jack Segbars (artist, board member Platform BK); Vincent van Velsen (freelance researcher, writer, art critic, and curator); Vivian Ziherl (founder of Frontier Imaginaries, curator)
Moderators: Angela Bartholomew (PhD researcher, Vrije Universiteit, Amsterdam), Hendrik Simons (curator, researcher)

On June 14th, 2016 Kunstlicht will host a public debate concerning the closure of SMBA in its current form. We are joined by invited speakers from the world of art and anthropology to publicly evaluate this incident against the backdrop of recent developments in the art field of the Netherlands. Kunstlicht intends to instigate a constructive dialog regarding the current formation and re-formation of art spaces in Amsterdam and the impact this has on the artists involved. We see the closure of SMBA as an occasion to raise questions that concern the presence of diversity and criticism in the art world and in society at large. Read more on the website of Kunstlicht or on Facebook.