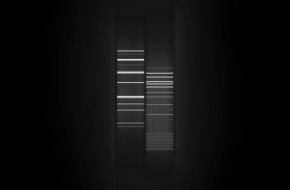 Performance Allard van Hoorn - 031 Urban Songline | Latitude: 52.372676° N - 52.372758° N / Longitude: 4.881090° E - 4.881379° E
Date: Wednesday 29 June, 7.30 p.m. - 8.30 p.m.
Marking the closure of SMBA at the Rozenstraat, Allard van Hoorn presents a performance and two-day exhibition '031 Urban Songline', as part of his long-term research project 'Urban Songlines'. Drawing upon the tradition of the Songlines, a system used for navigation and care-taking amongst Aboriginals, van Hoorn maps out urban spaces by translating their topology into music.
Central to the performance and exhibition is a particular but significant strand of SMBA's 23-year history of exhibition making: Animals. Departing from the microscopic traces left by the real and virtual animals that have inhabited SMBA over the years, van Hoorn questions the architecture and history of SMBA as exhibition space as he translates them into digital DNA profiles. Presented on light-boxes, the resulting 'animal-scores' are placed in the same positions the previous animals had occupied during their temporary stay. During the SMBA Closing Event, Van Hoorn transforms the exhibition space into a sound-lab, in which the 'animal exhibition history of SMBA as DNA-scores' is translated into music, played live by the artist on a graphical synthesizer.
Following the live performance, the scores will be made available for replay and for free download via SMBA in its continuing form: its online archive.
'031 Urban Songline' is on view until Thursday 30 June.
---------------------------------
Allard van Hoorn (Leiden, 1968). The work has been and will be shown at institutions and events like the biennales and triennials of Yinchuan (Art - 2016), Bucharest (Art - 2016), Marrakech (Art - 2016 | Parallel Event), Tbilisi (Art - 2015), Havana (Art - 2015), Istanbul (Art - 2015, 2013 | Parallel Events), Gwangju (Design - 2011), Shenzhen (Urbanism and Architecture - 2013), Fundazione Pistoletto, ISCP Open Studios November 2014, Art Rotterdam 2014 as Focused Artist, Blaffer art Museum - Houston, Rothko Chapel - Houston, Centro Centro - Madrid, MaCRO - Rosario, Rosenthal CAC - Cincinnati, de Appel arts centre - Amsterdam, Storefront for Art and Architecture - NYC, Stedelijk Museum - Amsterdam, Pinakothek der Moderne - Munich, Gasworks - London, the MoCA - Shanghai, Van Abbemuseum - Eindhoven (NL), MAM - Salvador de Bahia (Brazil), Open/Invited EV+A - Limerick (Ireland), Botkyrka konsthall - Tumba (Sweden), The Moore Space - Miami, Museo de la Ciudad de México, the German Architectural Centre (DAZ) - Berlin, the Zendai MoMA - Shanghai and CCCB - Barcelona.
He is the founder of the Platform for Urban Investigation, the nomadic, cross-disciplinary research facility investigating local urban environments around the world working with architects, designers, choreographers, musicians and visual artists.
---------------------------------
Allard van Hoorn's performance and installation are made possible with the support of the AFK (Amsterdam Fund for the Arts) and the Mondriaan Fonds.
---------------------------------
Image: Allard van Hoorn - 031 Urban Songline | Latitude: 52.372676° N - 52.372758° N / Longitude: 4.881090° E - 4.881379° E (Monkey) | web2dna script by Thomas Baekdal