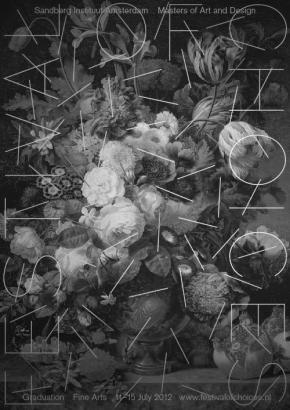 'A Festival of Choices' at SMBA
11 July - 15 July 2012
Opening: 11 July, 6-9 p.m.
Stedelijk Museum Bureau Amsterdam welcomes Sandberg student Ina Marie Schmidt during A Festival of Choices, organized by the Master of Fine Arts of the Sandberg Institute. As part of their graduation, students of the Sandberg each present their work in a different gallery or art space across Amsterdam. Ina Marie Schmidt will show her graduation work Stille Post for five days in the exhibition space of SMBA.
A Festival of Choices emphasizes the relationships and choices made by the graduating student among the diverse institutions and organizations in the cultural landscape of Amsterdam. For other presentations and their locations, please consult the website www.festivalofchoices.nl
Ina Marie Schmidt's work, which can be seen and heard in SMBA, is Stille Post. The work can be regarded as a musical abstraction of another work, Family Matters, that will be launched during the opening at the website www.inamarieschmidt.com. Both works are about storytelling. The starting point was a family photo album, which generated recollections of a story from four different angles. The protagonist of the story is Dieter. He was found dead one day on a railroad track in the German countryside. Two men and two women look back at this family member, each from their own perspective. This results in a very fragmented and unclear picture of Dieter. Schmidt's work questions the possibility of truthful representation, and asks what other forms are possible for giving an historical account.
In addition, she translated the four historical accounts into musical compositions, and these compositions are performed live for the audience in SMBA. The same history is recounted through photography, oral history, and a violin piece. But what is the relationship between these different formats? Is this musical performance only an echo of her family members' voices, or does it give an actual image of Dieter that is equal to an oral account?

Ina Marie Schmidt (1979, Siegen, Germany) studied photography and media art at the Cleveland Institute of Art and at the AKI in Enschede before she started her Masters at the Sandberg Institute in Amsterdam in 2010. She participated in various exhibitions in the Netherlands and Germany, for instance We will never know for sure in 2011 at W139 in Amsterdam or Kurz Film Funk in 2007 at Kulturhaus '73 in Hamburg.