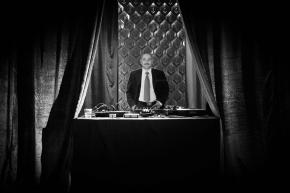 Housing Time: Museum, Memory and Momentum in Lebanon
Sunday, 2 November 2014
Location: Stedelijk Museum
Time: 1:00 – 5:30 p.m.
Panel discussion and cine-concert at the Stedelijk Museum in the context of the public program of the exhibition This is the Time. This is the Record of the Time, the second exhibition of the Stedelijk Museum's Global Collaborations project. With the participation of Zeina Arida (Sursock Museum), Octavian Esanu (AUB Galleries), Mona Hallak (Beit Beirut) and Kristine Khoury. Followed by The Night of Recounting the Years, a screening of the Egyptian classic The Mummy (1969) with live music by Sharif Sehnaoui and Raed Yassin.
Hosted and moderated by: Angela Harutyunyan & Nat Muller (curators This is the Time. This is the Record of the Time)
Symposium hours:

1:00 - 1:10 p.m.
Welcome, introduction Nat Muller

1:10 - 1:35 p.m.

lecture Mona El Hallak (architect, heritage preservation activist, initiator of Beit Beirut)

1:35 - 2:00 p.m.

lecture Zeina Arida (director Sursock Museum and former director of the Arab Image Foundation, Beirut)

2:00 - 2:25 p.m.

lecture Octavian Esanu (curator at American University of Beirut Art Galleries)

2:25 - 2:50 p.m.

lecture Kristine Khoury (independent researcher, writer and photographer, Beirut)

2:50 - 3:15 p.m.

panel + discussion moderated by Nat Muller & Angela Harutyunyan
3:15 - 3:45 p.m. break
3:45 - 5:30 p.m.

Cine concert The Night of Recounting the Years performed by Sharif Sehnaoui and Raed Yassin
The last decade has seen an increasing institutionalisation of Lebanon's contemporary art scene. Whereas five years ago physical showing venues were scarce in Beirut and the scene was more defined by its ad hoc festival culture, currently there is a surge in re-activating existing, or dormant, collections and museums in a variety of ways. New private and public initiatives for museums with collections of modern and contemporary Lebanese art have also sprung into being. How do these new developments (re)consider history, memory, and artistic practices in the present moment, and how are these specifically articulated within the political and economic context of Lebanon? What is preserved and what is reinterpreted or discarded? If we consider museums not only as the brick and mortar shells housing collections and exhibitions, but also as time capsules that narrate historical, temporal and ideological positions, then whose memory are these institutions preserving and narrating in the contested cultural and political landscape of Lebanon? Which particular potentialities and challenges do curators, artists and developers involved in these projects face? In addition, in the light of the current museum frenzy conducted in the Gulf, this panel pauses and asks critically how momentum, memory, history and locale play themselves out in the making of a museum. And finally, if 'contemporary art' has finally gained historicity, and as some critics claim is part of the previous century, then how would a contemporary art museum look like in place with little historical experience with museum culture?
With the Cine-Concert titled The Night of Recounting the Years, Raed Yassin and Sharif Sehnaoui interpret The Mummy. Egyptian filmmaker Shadi Abdel Salam's 1969 film The Mummy (al-mummia) or The Night of Recounting the Years is considered the most important Arab film of all times. Not only does the film question national and cultural identity and its commodification, it also questions modern society's relation to its past. Musicians Raed Yassin and Sharif Sehnaoui, respectively on turntables and electric guitar, accompany the film with their live improv set. The live "sound track" offers the film a different layer of interpretation and temporality.