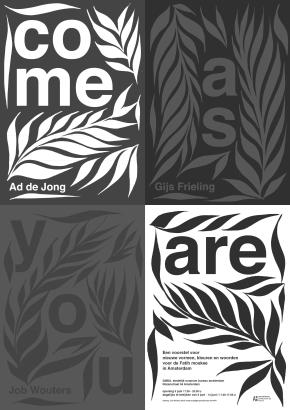 COME AS YOU ARE
A proposal for the Fatih Mosque
5 - 14 June 2015
Opening: Friday, 5 June, 5 p.m.
With: Gijs Frieling, Ad de Jong, Job Wouters
In collaboration with: Fatih Mosque
Location: Stedelijk Museum Bureau Amsterdam, Rozenstraat 59
COME AS YOU ARE presents the proposals artists Gijs Frieling, Ad de Jong and designer Job Wouters made for the Fatih Mosque in Amsterdam. The Fatih Mosque, which is situated on Rozengracht 150, is in the midst of a renovation. The artists made proposals for the portal and the furnishing of the entrance hall. The first proposals will be on view from June 5 at Stedelijk Museum Bureau Amsterdam, which is near the mosque. These proposals are meant as a starting point for dialogue. SMBA is honoured to have the privilege of hosting this unique collaboration between contemporary artists and an Islamic faith community in Amsterdam.
COME AS YOU ARE shows the designs for the entrance doors, tile floors and decorations for the walls of the entrance space and prayer wall of the mosque. Fatih Mosque has been housed in the former Saint Ignatius Church on Rozengracht since 1982. This building is a beautiful monument of Amsterdam School architecture and is therefore visited not only by Turkish-Dutch and many other religious believers, but more and more by tourists as well. The entrance of the mosque in its current state however does not do this beautiful building much justice. The renovation, together with the designs of Frieling, De Jong and Wouters, will change this. Their work is an example of how contemporary artists and a religious institution that generally has the image of being traditional can work together.
---------------------------------------------------

Events

The exhibition opens Friday 5 June at 5 p.m.. For the occasion of the opening there will be a short series of speeches at 6 p.m. in which the speakers respond to the question "How can artists make a connection with the spiritual space?". These speeches will be given by Bart Rutten (Head of Collections Stedelijk Museum), Mirjam Shatanawi (curator Tropenmuseum) and Mehmet Yamali (Fatih Moskee). Language: Dutch.

On Friday 12 June at 3 p.m., SMBA will organize artist talks with Gijs Frieling, Ad de Jong, and Job Wouters in collaboration with Fatih Mosque. Pooyan Tamimi Arab (art historian and cultural anthropologist, Utrecht University) will moderate this conversation. Language: Dutch.
---------------------------------------------------
Fatih Mosque is a Turkish mosque on Rozengracht 150, Amsterdam. The mosque is housed in the former Roman Catholic Saint Ignatius Church (built in 1929). The building has functioned as Fatih Mosque since 1982. The mosque regularly organizes art related activities. Fatih Mosque also participated in the gallery tour in the Jordaan area.
Gijs Frieling (1966) is a muralist working and living in Njimegen. Frieling studied at the Rijkakademie van Beeldende Kunsten. From 2006 to 2010 he was director of the artist-run space W139. Frieling is senior art advisor for the National Architect. Religion and nature play a central role in Frieling's colourful murals and paintings. His work is included in the collections of De Lakenhal, Leiden, ABN AMRO Art Collection and AKZO Nobel Art Foundation.
Ad de Jong (1953) is a sculptor working and living in Amsterdam. He is co-founder of the artist-run space W139. De Jong recently had solo exhibitions in De Nederlandse Cacaofabriek, Helmond, Galerie Annette de Keyser, Antwerp and in 1857, Oslo. He also participated in numerous group exhibitions in Europe. His work is part of the collection of Museum Boijmans van Beuningen, Rotterdam and KPN Art Collection, The Hague.
Job Wouters (1980) is originally a typographer. His handmade and often colourful letter designs play with the borders of handwriting and calligraphy. Ever since he graduated in 2004, Wouters has worked on building up an international design studio with clients such as Stussy, Nike, Duvel and The New York Times. In recent years Wouters has committed himself to monumental murals which he executed in Milan, Paris, Helsinki, Los Angeles, Tokyo and Moscow, among other places.
---------------------------------------------------
COME AS YOU ARE is made possible by The Amsterdam Fund for the Arts (AFK) and the Mondriaan Fund.